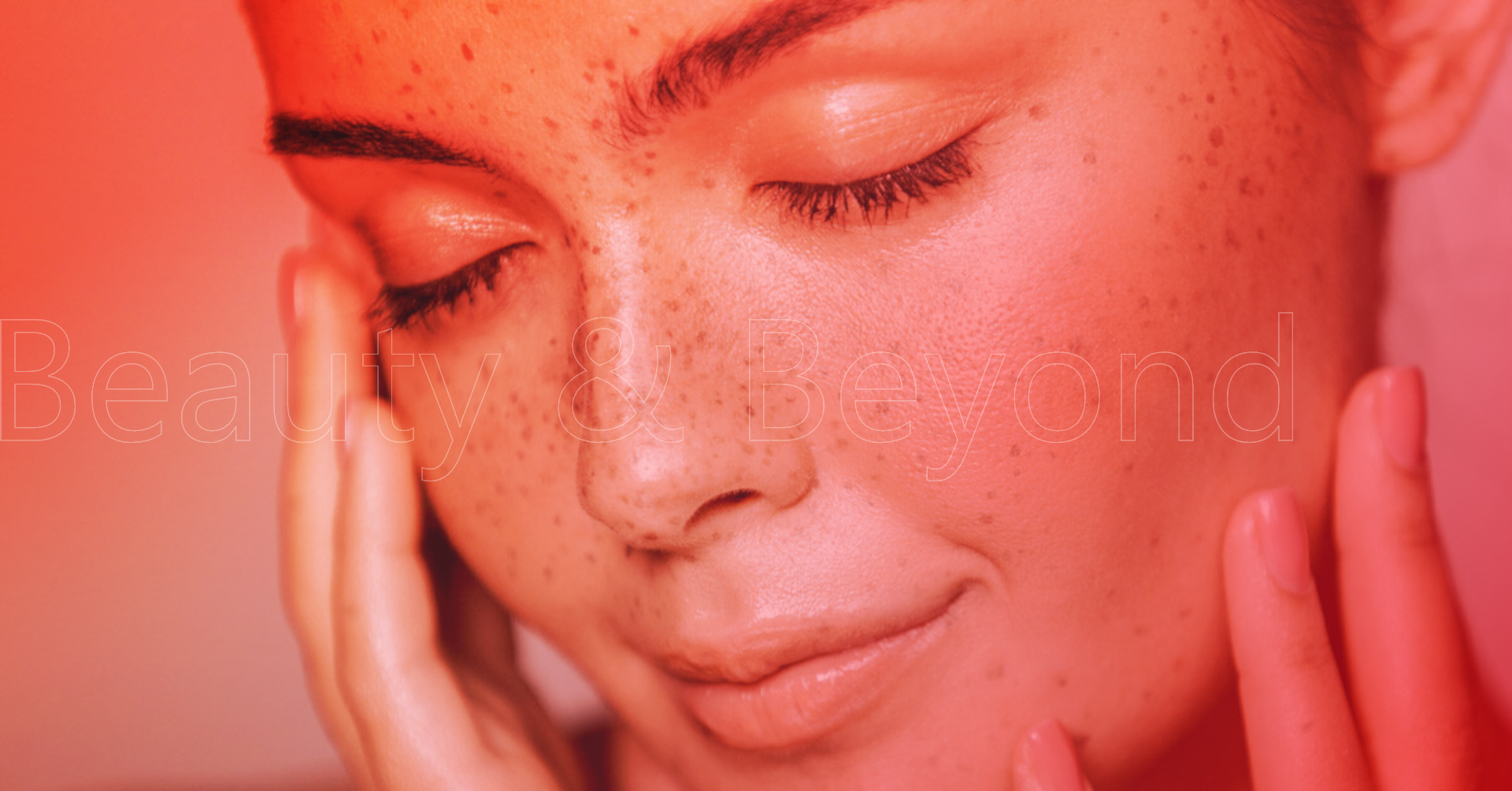 Beauty & Beyond
Safe. Certified. Loved.

FDA Approved
CLASS 2 Medical Device

100+ Patents
Light Therapy R&D

Light Quality Clinically
Tried And Tested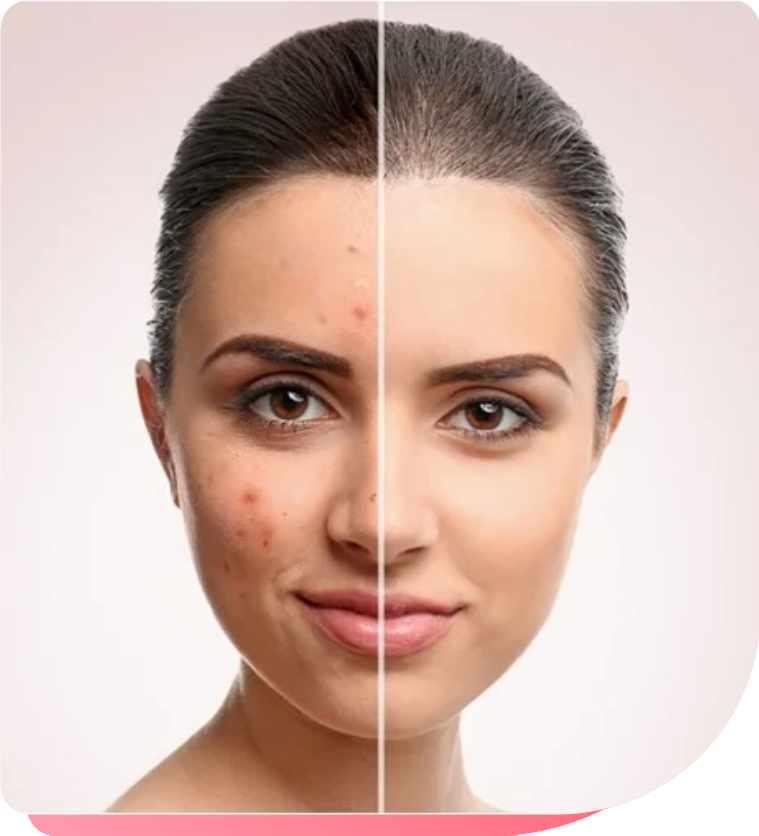 NATURAL SKIN CARE
Beauty From
Within.
Allow your own cells to rejuvenate and create a flawless skin rich in collagen, elastin and sebum. Your best skin comes from within!
Shop Now
Essential Light For A
Healthy Life.
When it comes to light, nothing is better than the sun. Aduro light therapy products mimic the healthy natural wavelength of light in your day. Your body needs light like it needs water and food and sleep.
01.
Morning (400 - 800nm)
Increase from ~5 to ~80 intensity of wavelength.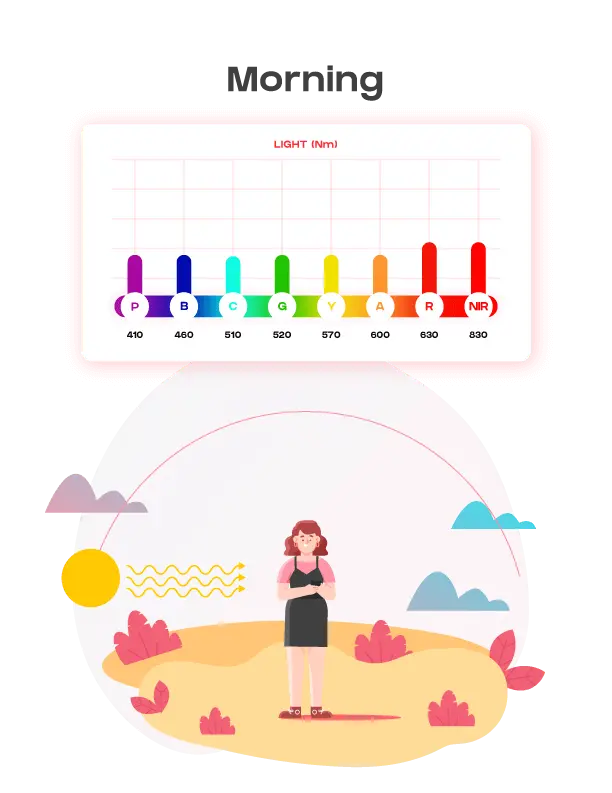 02.
Noon (400nm)
Maximum ~80 to ~100 intensity of 400 to 800nm.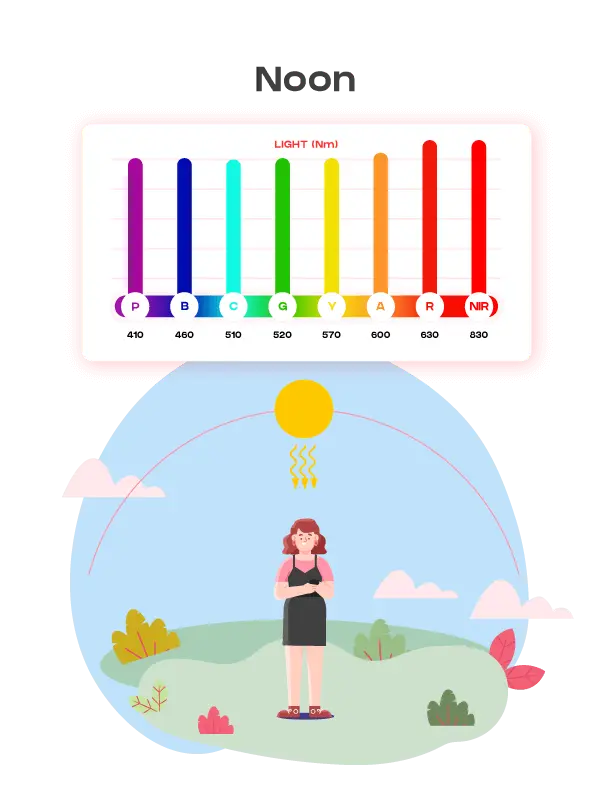 03.
Afternoon (500nm)
Decrease from ~100 to ~30 intensity of wavelength.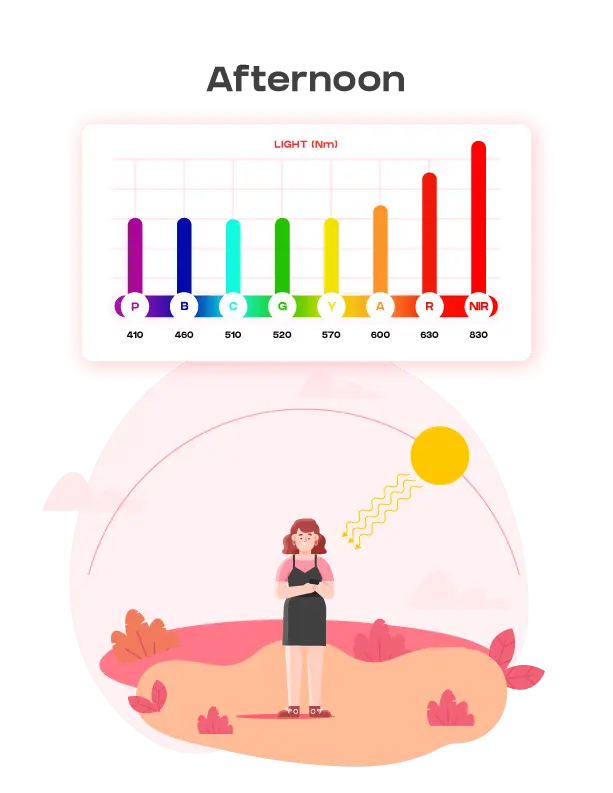 04.
Evening (800nm)
Decrease from ~30 to ~5 intensity of wavelength.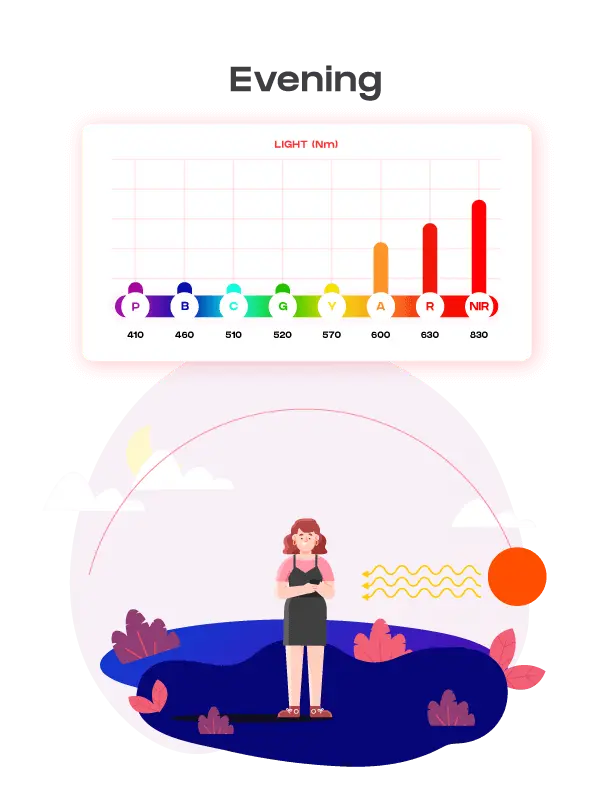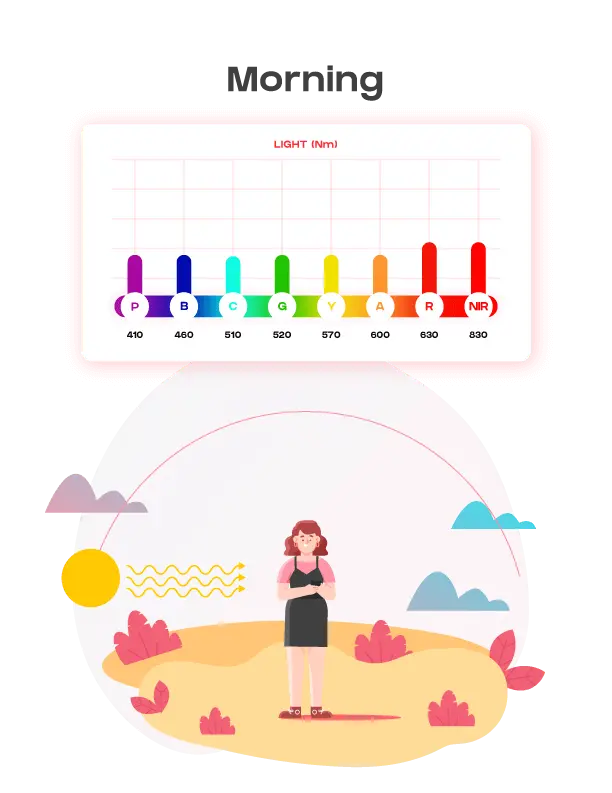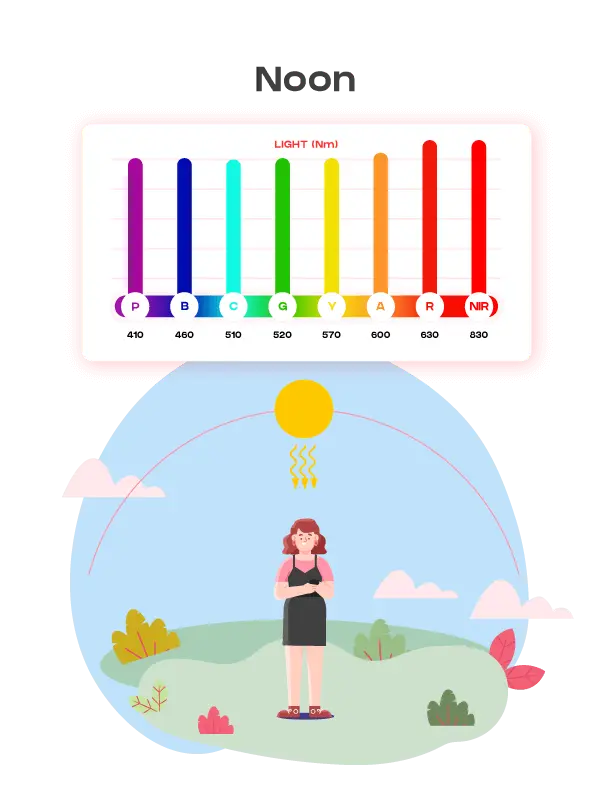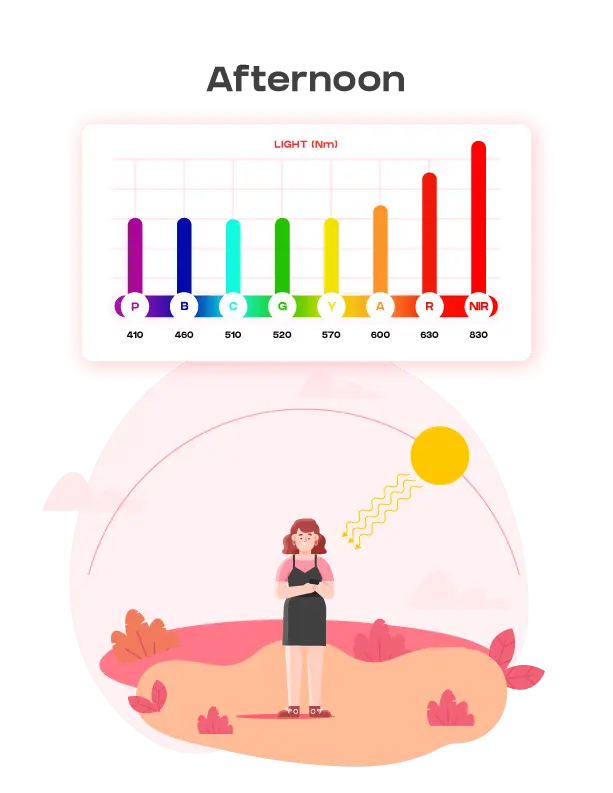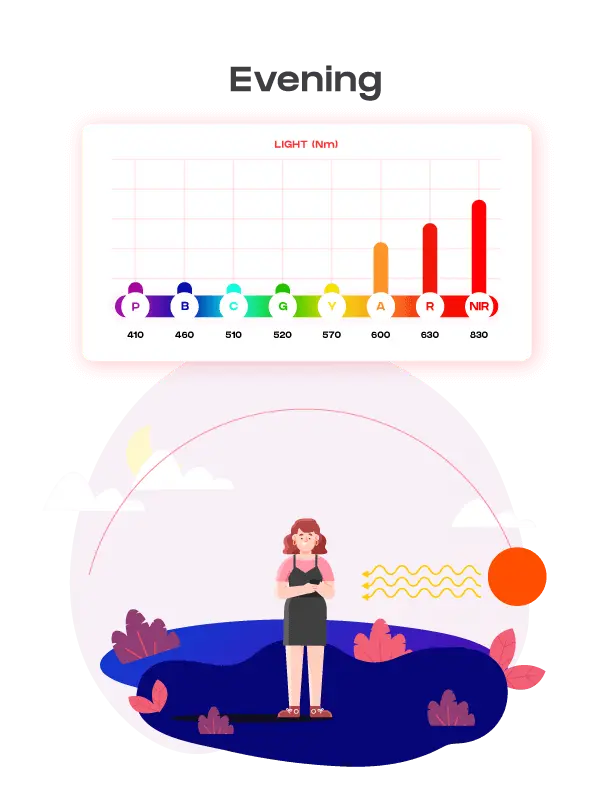 Your Aduro Therapy.

Healthy Light

, Your Way.

Choose between red light, near-infrared light, or unique combinations.
SELECT YOUR COLOR
#ff0000

#f11808

#fc942b

#f1e103

#21c202

#10f9e2

#000cae

#a114ab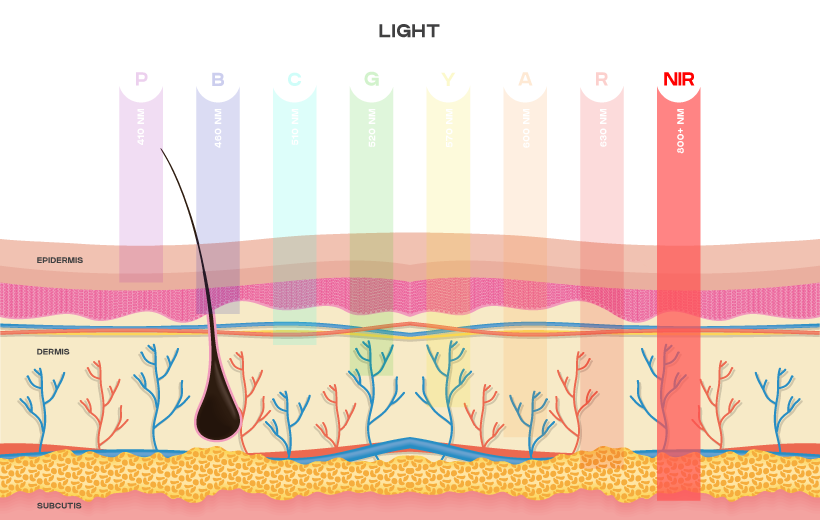 Delivered at 850nm, near-infrared (NIR) light is invisible to the human eye. It penetrates into deeper tissue, and boosts the body's natural recovery, healing, and regeneration processes.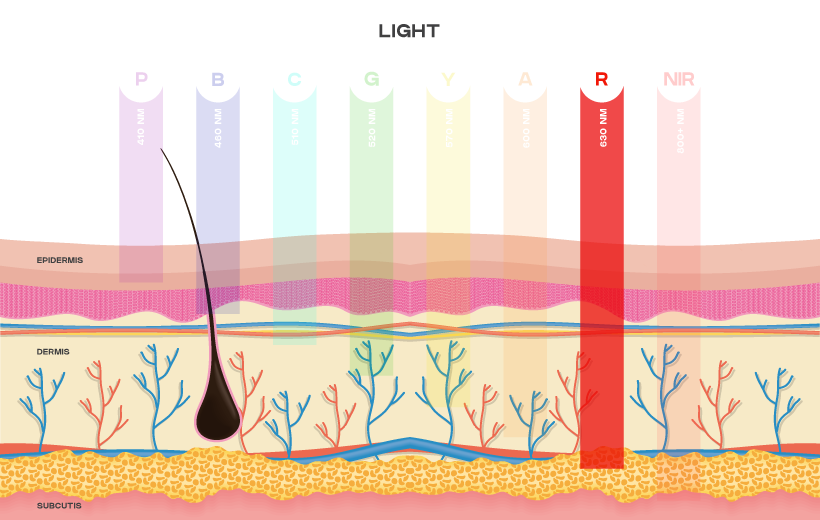 Delivered at 630nm, red light therapy also known as low-level laser therapy or photo bio-modulation therapy exposes the body to red light, which is absorbed by the mitochondria in our cells. This absorption of light energy triggers a complex series of events that leads to the production of adenosine triphosphate or ATP, a molecule that is responsible for producing energy in the cells.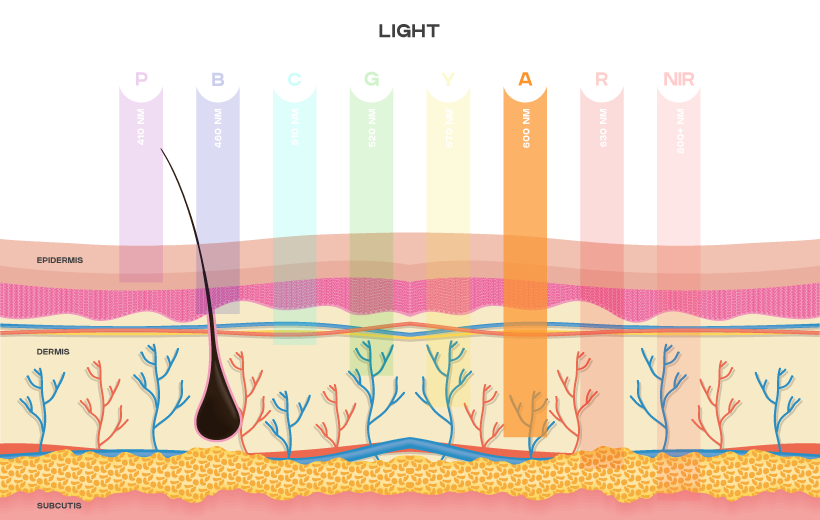 Delivered at 600nm, orange light therapy uses orange light to help promote a brighter glow for more radiant skin. It is often used as a complementary treatment for skin conditions, including acne, rosacea, and psoriasis.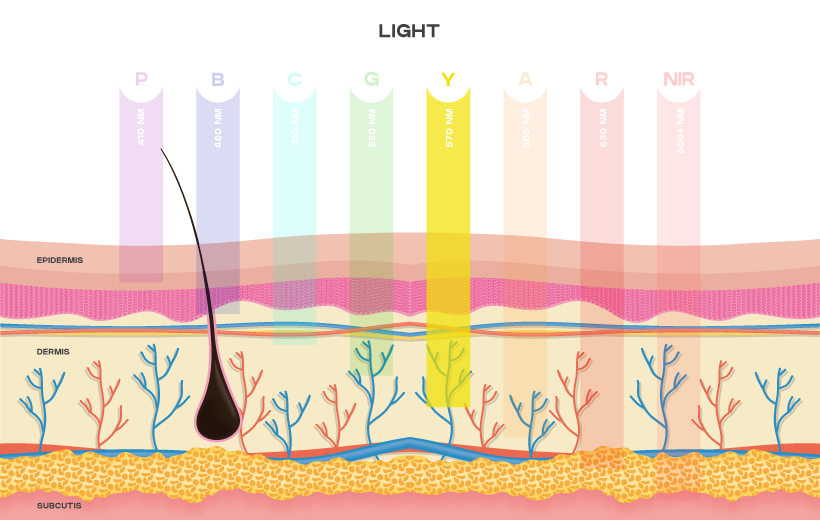 Delivered at 570nm, yellow light therapy can help people with depression, anxiety, and addiction and has been used in hospitals and clinics around the world. A well-documented counselling method uses yellow light to help its patients cope. Yellow light therapy uses low level visible light to stimulate the body's natural healing response. It is used for skin rejuvenation and works best on people with mild to moderate skin conditions.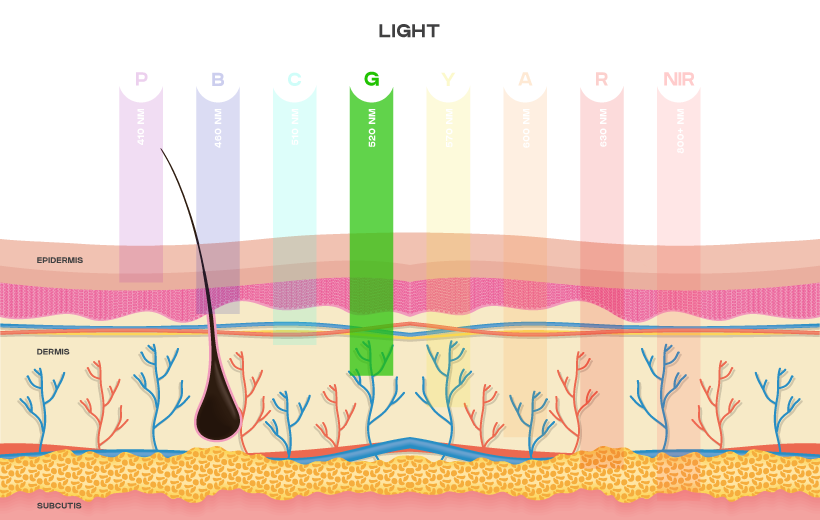 Delivered at 520nm, green light therapy is a holistic treatment that can help for general wellness and with mental, physical, and spiritual well-being. It has been shown to be effective for treating conditions such as anxiety, depression, PTSD, and chronic pain.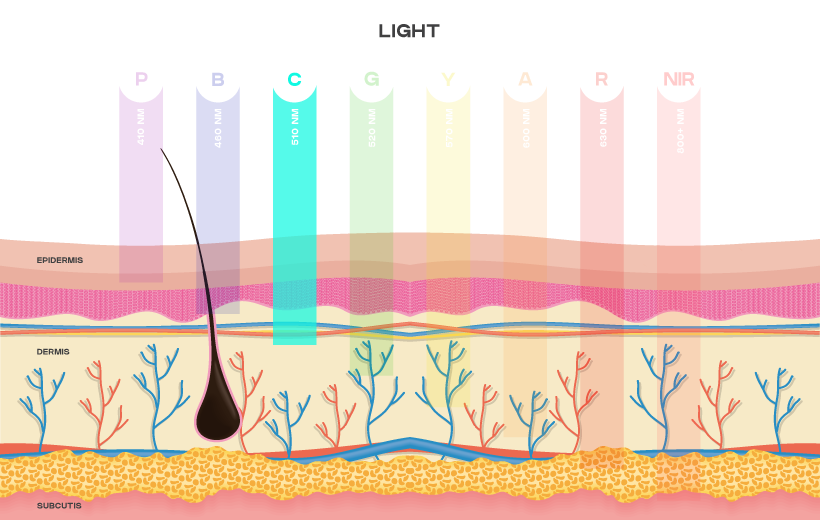 Delivered at 510nm, cyan light therapy is used to reduce the size of swollen capillaries. It works by stimulating the production of nitric oxide, which helps to dilate blood vessels and improve circulation.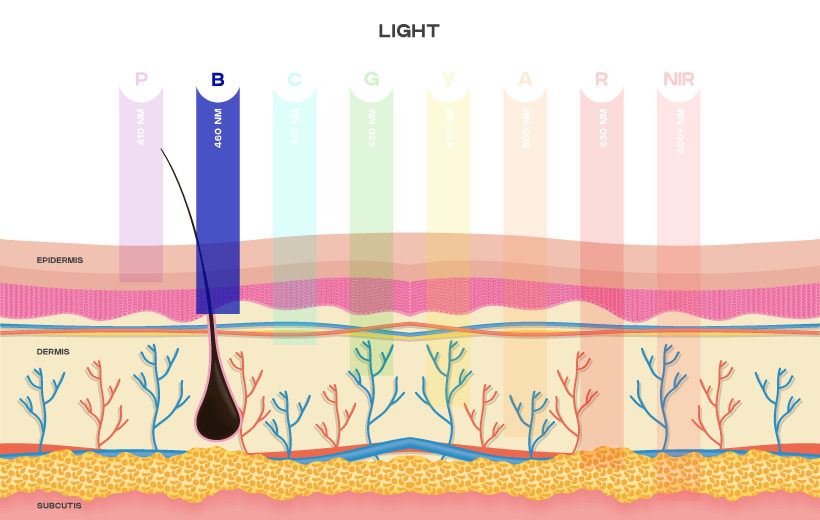 Delivered at 460nm, blue light has a growing body of research indicating that blue light therapy can have positive effects on mental health, fatigue, low mood, sadness, or depression generally with a therapy for 30 minutes a day over the course of two weeks.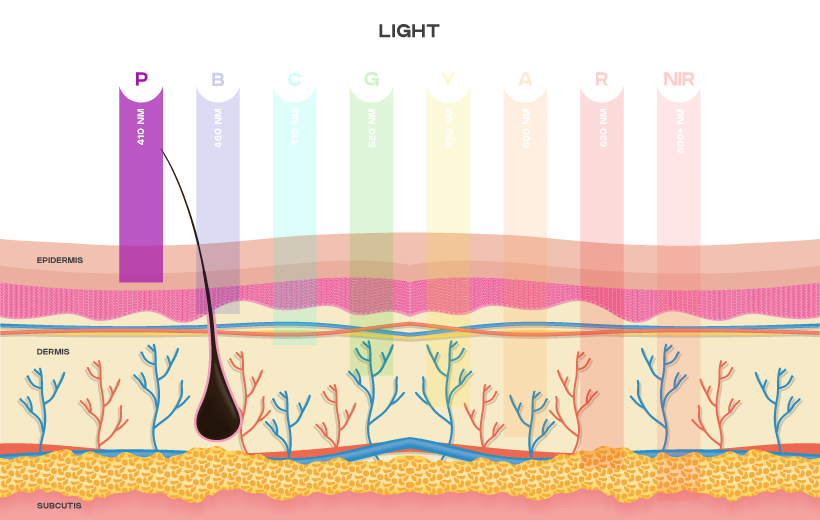 Delivered at 410nm, purple light therapy uses a specific wavelength of light that is absorbed more deeply into the skin than other wavelengths. This allows the light to reach the body's cells and interact with them more effectively. Purple light therapy can be used to improve circulation, reduce inflammation, and relieve pain.
Not Sure Which
Light Therapy

Is Best For You?

The Aduro mask is the only light therapy product that offers a daily dose. Use for 20 minutes a day to get all those essential light vitamins. A perfect dose of essential healthy light backed by light science. And just like vitamins, if your body has enough it doesn't take up anymore.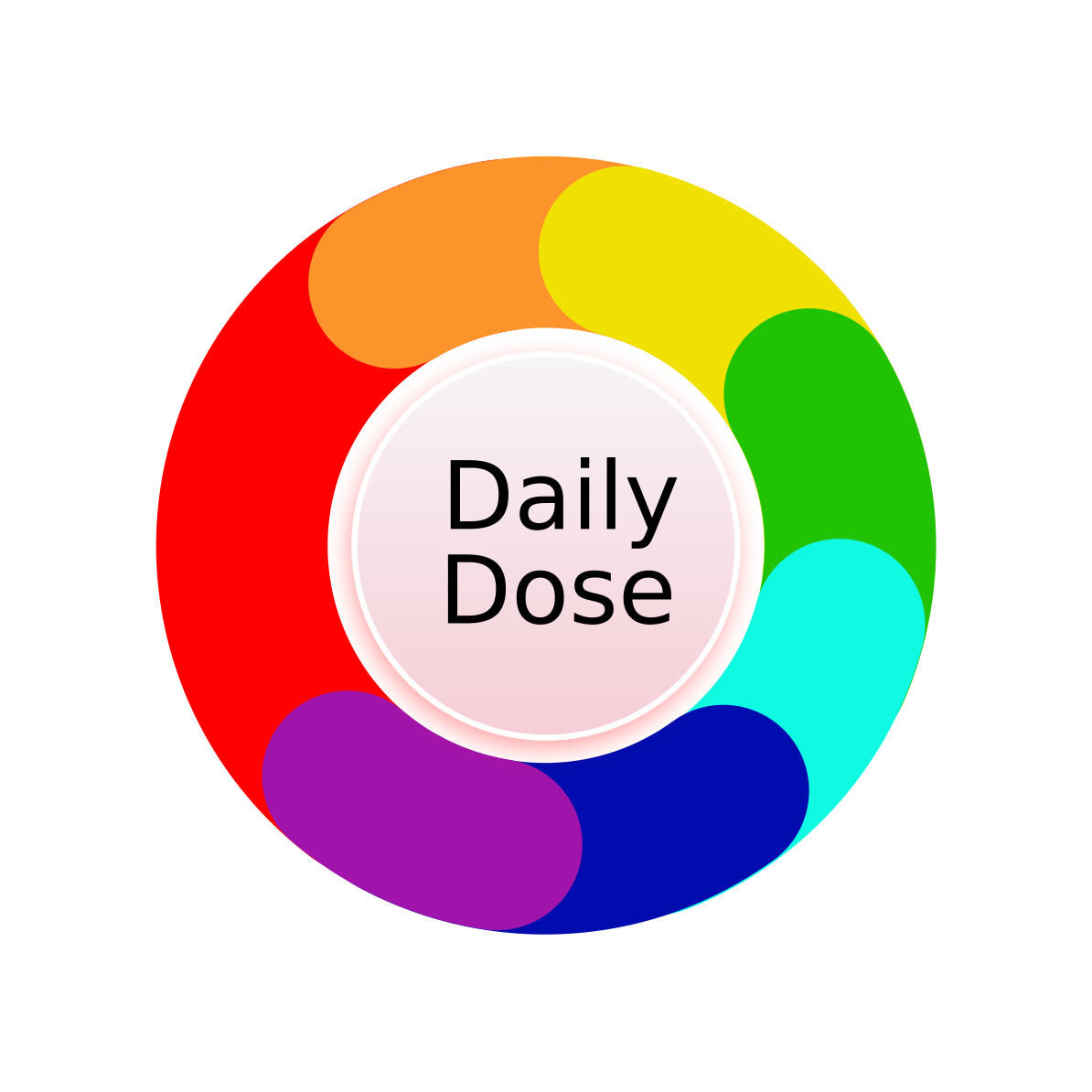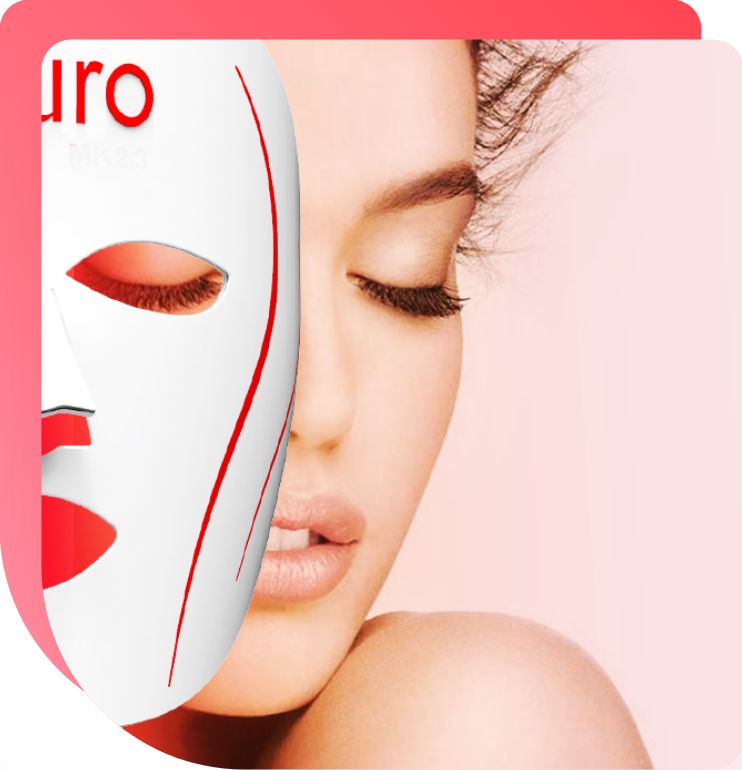 DISCOVER
Light Vitamins.
Aduro uses revolutionary light science researched by NASA. The effects of LED light therapy helps your body product essential components for health and beauty. Call them light vitamins. discover the right light therapy for you!
Light Therapies
Red light therapy could increase energy inside human cells- with more energy, cells can function more efficiently rejuvenating themselves and repairing damage.
Dr. Wagner
At a cellular level red light helps promote blood circulations and brings more oxygen and nutrients to your skin surface this can help with collagen, minimizing the effects of aging-and overall increase blood flow for a healthier skin.
Ultra Low
EMF

.

HIGHEST QUALITY HEALTH & SAFETY
Aduro products adhere to the highest industry standards to ensure safe usage.
01.
IEC 60601-1
General Requirements
02.
IEC-60601-1-2
Electromagnetic Disturbances
03.
IEC 6060-1-6
General Requirements
04.
IEC - 62366S
Usability Of Medical Device
05.
IEC 60601-1-11
Medical Electrical In Home Health Care Environment
06.
IEC 60601-2-22
Safety For Cosmetic Laser Equipment
07.
ISO 10993-1
Biological Safety Of Medical Devices
09.
ISO 10993-10
Irritation And Delayed-type Hypersensitivity
10.
RoHS Directive 2011/65/EU
Restriction Of Hazardous Substances
11.
IEC 60601-1:2005+A1:2012
LVD Electrical Safety Testing
12.
IEC 60601-1:2005+A12012(Mod.)
Current Leakage Test
13.
IEC 60601-1:2005+A1:2012(Mod.)
Drop Test
14.
CE
European Electronically Safety Test
Smoothes Out
Skin Imperfections.
Diminishes Wrinkles And
Helps With Sun Damage.
Boosts Collagen And
Elasticity In Skin Cells.
Great Service
We offer fast and free worldwide shipping with FedEx.
Great Service
We produce more than 30 FDA medically cleared devices per year and we have 15 years experience in the light therapy. Our factory has the highest standards in the medical industry
Clinically Tested And Proven
All our LED Face Masks are clinically tested and proven safe and effective. They offer the user may therapeutic treatments
Dutch Design
Aduro strives for quality and perfection. All products meet high quality standards and are tested before leaving our facility
Eco Optimized
Our packaging material is made of recycled carton.